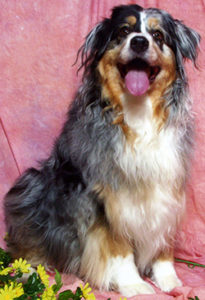 One day many years ago we went in search for a pet dog to join our family. We stumbled upon the Australian Shepherd breed and decided to take one home after researching and visiting numerous puppies. That day we were blessed with a wonderful Australian Shepherd named RockNRoses Crystal Blaze (Pupa). This sparked our love for the breed and since then it has been our focus. Since Crystal has passed over to the rainbow bridge we have added numerous Australian Shepherds to our family and the love for the breed has grown.
We have researched and implemented many training teqniques, feeding options, grooming tactics, care and rescue organizations that focus on this breed. We currently volunteer to many Australian Shepherd rescues and spend a great amount of time helping the breed in any way we can.
We have created this website and various social media platforms to bridge the gap between Aussies in need of a home and people wanting to adopt an Aussie. We dream of a world with no dog without a home and hope our contribution helps this dream come true. From helping Aussies find homes we have widened our focus to helping lost dogs find their owners as well. From their we don't want to limit ourselves to just this breed and try to help all dogs. As there is not one breed that is better then the other. (Well, we do love our Aussies!) But all animals deserve a voice and we hope to speak up for all them in every way possible.
Our website and social media will be geared to finding Aussies a home and to reunite Aussies with their owners. We plan to help educate everyone on the best way to care for, train, and feed this wonderful breed as well as using this education for other breeds when ever possible.
Aussome Paws would like to someday purchase a large property and save all dogs. Let them roam free with a full staff to care for them and find them all homes. Educate everyone on the best way to train, feed, and care for that is best for them and not just the way we were told and the easiest way that may not be the best.
We are focused on positive training, home cooking and raw feeding (with education and under vets supervision), as well as natural first line of defense for health care when ever possible. We are against over vaccinating and constantly educating ourselves on the best way to care for our pets. They deserve better then the old fashioned run of the mill way everyone is used to that is killing our pets.
Have a look around and help us save all of the homeless and bad care animals are receiving. (Especially Aussies!)
Run free Crystal and Sydney. You are better now. We will see you again some day. Amber, Skyla, and Oakley, you be good dogs!